In this article, we will explore additional formatting options DocumentsCorePack provides for splitting a table's header or footer. With DocumentsCorePack integrated into Dynamics 365, inserting tables in Word and merging them with data from Dynamics 365 becomes effortless. This functionality proves to be highly advantageous, mainly when presenting product information in a well-organized list format.
Step-by-step description
Step 1: In a Word template open the DocumentsCorePack Template Designer by clicking the ❶
www.mscrm-addons.com. Open the ❷ Insert MailMerge Fields.

Step 2: On the left side, select a ❶ Type and navigate to the ❷ Additional tab and e.g., with Quote Products you insert a table of products associated with this quote.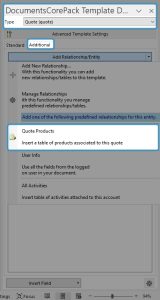 Step 3: The look-up field for Quote Product opens.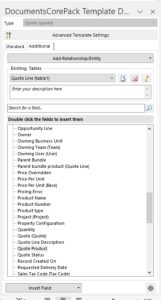 Step 4: With a double-click on a field, the Insert new table window opens.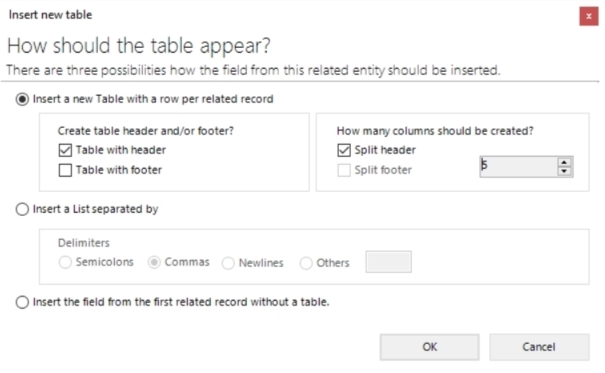 Step 5: With the new feature, you can split a table's header and/or footer. Activate the checkbox Split header or Split footer and define how many columns should be created. The value goes from 1 up to 63.
For example, we want our table to be displayed with a header and 5 columns.

Step 6: Add specific information to the table.

That's it! We appreciate your feedback! Please share your thoughts by sending an email to support@mscrm-addons.com.