The Advanced String property allows you to define a pattern for a dynamically created string. The following step-by-step description will show you how to set this property in the DocumentsCorePack (DCP) TemplateDesigner.
The example below shows an advanced string ❷ based on a placeholder in a template ❶.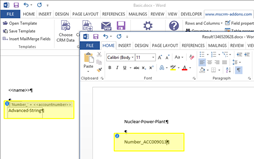 Figure 1: Example of dynamic string
If you are not sure how to get to the insert fields option, please take a look at this article first.
Use the Advanced String option
Create your advanced string
Define your link pattern ❶. The syntax for this field is described here.
Define a placeholder [optional]
You can set a placeholder name ❶ for your field so that you can find it easily in case you have to modify your template in the future.
Save your template
Before you can use or test your template, you must save it. You can either save your template locally with the standard Save or Save as functionality of Word, or you can use the Save Template option of the DCP Template Designer in order to publish the template to Dynamics 365.
Test your template [optional]
As you make changes to your template, you may want to test them quickly. A step-by-step description of how to test your template can be found here.
Related Topics:
Computed field in Dynamics 365
That's it! We appreciate your feedback! Please share your thoughts by sending an email to support@mscrm-addons.com.