We have all been there. Working with Microsoft Dynamics 365 (CRM) is really great, but sometimes, the data storage costs go through the roof. And yes, saving data in Microsoft Dynamics 365 can be cost-intensive. Consequently, we solved this problem by creating AttachmentExtractor.
Please see our video tutorial for AttachmentExtractor which shows how to start the AE Online Configuration.
Step-by-Step video:
Step-by-Step description:
Step 1: Login or register on  www.mscrm-addons.com
The registration is quick and free. Once logged in, you will:
have access to all our free 14-days trialversions
be able to request full supporton all trial versions
receive our newsletter
be able to upgrade free trial versions to licensed products
So – if you haven't registered yet – it's worth a try!
After your login navigate to "Visit my profile – My Account" and "Manage Services".
Now this "Service Configuration"-window is shown. Navigate to the "AttachmentExtractor"-tab and press the [+]-button.
Step 2: Now set up your Dynamics 365 connection.
Here is an overview of the AttachmentExtactor Service Settings.
Connection Profile: Set up your CRM connection
Service Name: This must be a unique service name and cannot be changed.
Attachment Extractor Instance: Please select the instance on which the service should be installed. The instance with the best bandwidth is automatically preselected, but you can change it until you have saved the new service.
Extraction Mode: Please specify here if you want to extract E-mail content or Attachments.
Storage System: Decide which attachment storage system your AttachmentExtractor Service should use.
SharePoint Integration: Make your SharePoint settings whether you want to use the CRM Integrated SharePoint or a Specific SharePoint.
Storage Option for Entities without Document Management enabled: Entities without Document management can be stored daily or weekly on a specific SharePoint library. You can also decide which Entities not to extract.
SharePoint Credentials: Please enter the credentials of a SharePoint user with administrative access to your configured SharePoint here.
Show Advanced Options: See this topic later in this article.
Back to set up your CRM connection. Press (❶) [Connection Profile]-button and choose your connection profile type
Please note: You should always use "Server2Server" unless asked by our support team to change the type.
❷ Don´t forget to complete your CRM URL and now
❸Press the [Retrieve Organizations]-button. You have to enter your Admin credentials again. At this point, you will be asked for application permissions. Click here for details.
Please note: it is recommended to change the sign-in frequency for your service user as described here.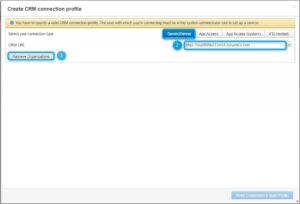 Your organization is shown. Press the [Verify Connection & Save Profile]-button.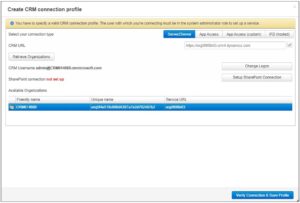 While your connection gets verified, this window is displayed to remind you not to close this window or navigate away.
After your connection is set up, some settings are required like a SharePoint user and how often you want to extract attachments. Press the [Save Service]-button.
This window gives you some important information about the setup. Please obey the recommendations and press the [OK]-button.
Your Service Configuration is Completed when you see this message. Press the [Ok]-button.
Congratulations! Your AttachmentExtractor Service is running!
Addendum:
9. Show Advanced Options (Figure 3):
Enable text-only emails in timeline: Decide if you want to see in the timeline the e-mail text only or the full content.
Enable Debugging: In case of any issues during the extraction, we would recommend you to enable debugging here. The log files will be available as soon as the service is saved.
Add markup to email body for extracted bodies:
Create SharePoint attributes: Once enabled, this option will create SharePoint attributes for all transferred files. For further information on SharePoint attributes, have a look at this article.
Here you can decide whether you would like to create a new folder weekly or daily. This option only applies to CRM Integrated SharePoint.
Notify on service changes: Select this option in order to receive an e-mail every time there is a service change.
Process static Timerange: Limit the extraction to a specific time range.
9a. Show even more Advanced Options
Skip role assignment: This feature was enabled in order to deal with a common issue that all users with an assigned Dynamics 365 will automatically become enabled users in every Dynamics 365 tenant and thus counts towards our license. However, the users have no access to the tenant. Once enabled, our licensing will count users only if they have at least one security role assigned which is not the case for auto-assigned from the Office 365 portal.
Only count users with security roles for licensing:
That's it! We appreciate your feedback! Please share your thoughts by sending an email to support@mscrm-addons.com.