With Microsoft Dynamics 365,  Microsoft has presented a new method of document generation.
The overview below allows a comparison of the new native document generation with our solution DocumentsCorePack.
Document Generation & Workflow Integration: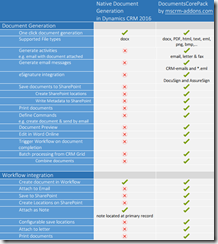 Figure 1: Comparison MS Dynamics CRM I
Template Design: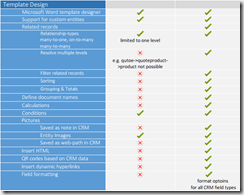 Figure 2: Comparison MS Dynamics CRM II
Request a live demo of DocumentsCorePack here or get a free 14-day trial version today!
Find the whole document here:
Comparison_DocumentsCorePack_vs_CRM2016_DocumentGeneration.pdf (334.84 kb)
That's it! We appreciate your feedback! Please share your thoughts by sending an email to support@mscrm-addons.com.
#reworkneeded… bring up to date