The error message displayed in Figure 1 indicates, that there are either too many documents to generate (rather unlinkely) at the moment or that the DCP service is not running.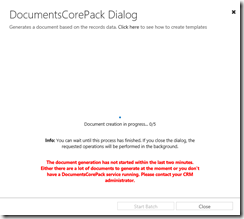 Figure 1: error message
Solution: 
The above error message can occur when you start a batch in DocumentsCorePack. To solve this issue, you have to activate or setup a new service.
Learn how to create a service
in CRM online here.
in CRM on-premise here.
That's it! We appreciate your feedback! Please share your thoughts by sending an email to support@mscrm-addons.com.