The Document name property allows you to define a name or a name pattern
for your template. So the actual document already has a pretty name as soon
as it is generated. This setting applies to both, DocumentsCorePack Server Based and
DocumentsCorePack Client Based. The following step by step description outlines
how to set this property in the DocumentsCorePack Client for your template.

Example: A template with the name "Quote_Base.docx" (1) creates a document with
the name "Nuclear Power Plant-QUO-01000-W4G3T9.docx" (2).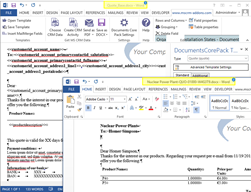 Figure 1: Example
If you are not sure how to get to access to the template settings to set the
document subject please have a look at this article first.
Set your document name pattern
Insert placeholder for Dynamics 365 fields by double-clicking the element in the tree
or type in some fixed text enclosed by single quotes.

The basic rules for the syntax of this property are:
– Dynamics 365 fields have to be enclosed by << and >>
–The fixed text has to be enclosed by single quotes (').
– Fields and fixed text have to be combined with a plus (+)

Details about the syntax for this property can be found here:
DocumentsCorePack Property Syntax

Figure 3: Example of a set property

Save your template


Before you can use or test your template you have to save it.
Either you save your template locally with the standard Save or Save as
a functionality of Word or you use the Save template-option of the
DocumentsCorePack client in order to publish the template to Dynamics 365.

Test your template [optional]
As you have made changes to your template you might want to test them quickly.
A step by step description of how to test your template can be found here.
reworkneeded…
//Part of DCP Client In-App Docu