Even thou you have the capability to modify your whole generated document you might loss certain changes if you must re-create your document once again as the underlaying data in Dynamics has changed. (e.g. you must add or remove product lines, change lookups or address data, or some states change that are responsible for displaying conditional elements (about Conditions Fields) in your documents.
Editable sections allow you define areas in your document that are saved and inserted again when the document is generate again later.
This feature enhances the collaboration on documents created with DocumentsCorePack and gives you much more flexibility in the design your document generation processes. This webinar deals with this functionality in detail.
Use Case Example – Working on a Quote
Please note: The editable sections functionality is not available in the multipart case, only when creating a single document.
In the following sample we will generate a quote and perform changes on a configured section, modify the underlaying data in dynamics and see how those change persist even if the document is generated again.
The first illustration shows a resulting generated document based on a template (If you are new to DocumentsCorePack we would recommend this webinar as an entry point). At the top and the bottom of the document you see that the placeholders have been replaced with data. The highlight section itself stayed as it is.
We are now performing modifications on the the configured section. For the feature it does not matter if you us the edition of DCP (❶) or if you open the document directly form Sharepoint (❷). We simply modify some text that you can see highlighted in red (❸).
After saving your document we are going ahead to change some data in Dynamics 365 and add a product to the quote. Of course this change requires us to re-create the whole document. This process would usually ignore the changes we have done on the static text that we added.
But with the section export configured properly you can see that the actual static text of the template (❶), was replaced with the changes we made (❸) although the data changes (❷) – new product and result different sum) required me, or a member of my team to recreate the document.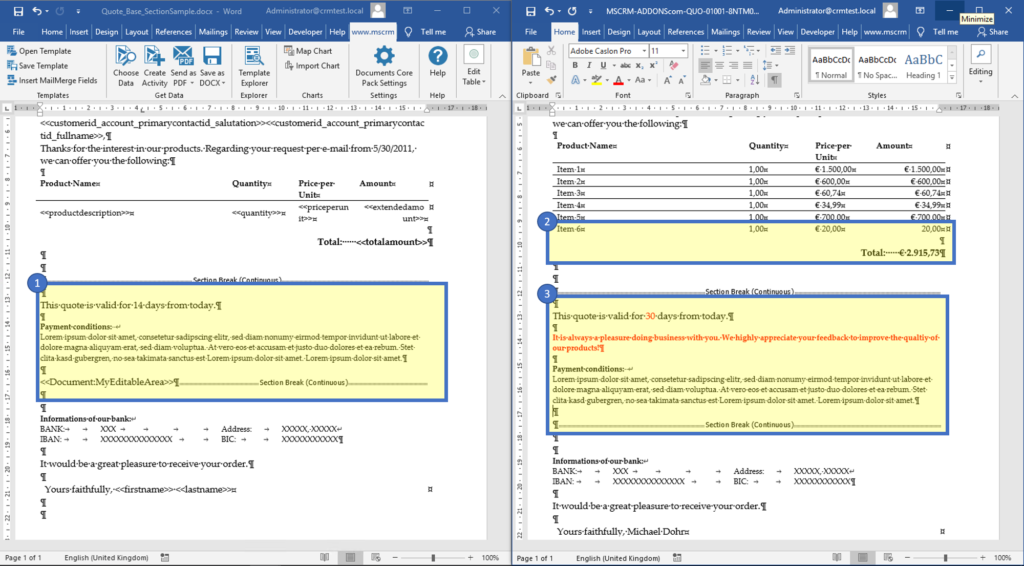 Learn here how to save edited content to a User/Temp record.
That's it! We appreciate your feedback! Please share your thoughts by sending an email to support@mscrm-addons.com.