How does DocuSign work?
DocuSign is another tool that simplifies the world of e-signatures. It empowers you to electronically sign documents.
We are happy to announce that we offer the possibility to use DocuSign within DocumentsCorePack. Benefit from this combination and take the usability of Microsoft Dynamics 365 to a whole new level.
How to install DocuSign for Microsoft Dynamics 365
Please Note: DocuSign has changed the endpoint address in the DocuSign update of the 07th of August 2020. The endpoint address will be updated in your Dynamics 365 the next time you open the DocuSign Admin page. Because of this change, it is necessary to update to the new DocumentsCorePackServerDocuSign solution version 4.4 or greater which is compatible with the new endpoint address.
Mandatory steps
Step 1: Create a DocuSign Business Flex/Advanced Solutions account.
Step 2: Install DocuSign from Microsoft AppSource.
Step 3: Setup DocuSign in Dynamics 365
Optional steps
Step 4: Install the additional DocumentsCorePackServerDocuSign.zip solution (version 4.7.2 from 8.3.2021).
Step 5: Create a SettingsKey for AutoMerge with name DocuSignWorkflow and value DCPDocuSignWorkflow  – for more information on how to create a settings key manually, please have a look at this blog article.
These optional steps are only required if you would like to get pushbacks from DocuSign. For further information on pushbacks, please have a look at our e-Signature DocuSign User Guide.
However, please follow this link for detailed information provided by DocuSign.
Please note: DocuSign for CRM only supports Microsoft Dynamics 365 ONLINE
(OnPremise may work – but it is not supported by DocuSign!)
How to set up/add users in DocuSign

Please note: Each Microsoft Dynamics 365 user, who wants to use DocuSign must be also set as a user in DocuSign.
Step 1:
Log-in to your DocuSign account, go to Admin and select Users.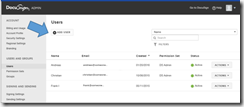 Figure 1: Log in to DocuSign account
Step 2:
Press on the [+Add user]-button. This particular user gets an email to activate his account and to enter a password.
The status of your new user is Pending (until he has registered properly).
But if you now open the user in Dynamics 365 there will be no record found:


Figure 2: Dynamics 365 main ribbon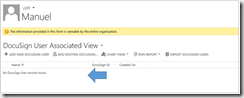 Figure 3: No record found in Dynamics 365
This is why:
DocuSign will search for a matching DocuSign Account with the Dynamics 365-user (email). Only if it is found, DocuSign will add the record. So the user should open contact or an account and then hit Go to DocuSign.
Step 3:
Provided that everything went fine, DocuSign recognizes the new user, the DocuSign Welcome-Screen appears and your DocuSign users' record appears in Microsoft Dynamics 365.


Figure 6: DocuSign user record found in Dynamics 365
Congratulation! You have just added your first DocuSign user! 

Still curious? Find out how to send DocuSign-Documents on behalf of different users here!
That's it! We appreciate your feedback! Please share your thoughts by sending an email to support@mscrm-addons.com.