Here is a short description of how to access the General Settings to customize your products.
Open your Dynamics 365 and press the [Settings]-button.
An enumeration of possibilities is shown, choose the Advanced Settings.
A Business Management overview is displayed. Choose "Settings" and a menu board shows up.
Go to the MSCRM-ADDONS section where every product you have installed is listed.
Make your choice for the product you want to set up. In this case, it is the DocumentsCorePack.
Select the tab "General Settings".
The surface of "General Settings" is displayed. Select the option you want to change or personalize.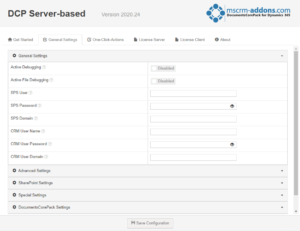 Figure 4: General Settings Overview
That's it! We appreciate your feedback! Please share your thoughts by sending an email to support@mscrm-addons.com.