This blog article outlines how to add the Microsoft Word properties for the DocumentsCorePack Client.
Usually, there is no need to activate additional properties for the DCP Client. However, there are some exceptional cases, when the additional MS Word properties must be activated.
Please note: you must NOT change the MS Word properties without permission in this case. But if you have already got the permission from our support team or one of our developers, please follow the below instructions.​
First of all, please open the MS Word properties.
To do so, open the template you would like to add the MS Word field-properties and open the File-tab in the Microsoft Word CommandBar.

Figure 1: Open the file-tab in MS Word
Next, click on the Properties-drop down menu ❶ in the Info-tab. Then, select Advanced Properties ❷. And finally, insert the Name ❸ and Value ❹ of the property into the corresponding field and click on the [OK]-button. Please note: The values for the name-, as well as for the value-field, will be provided by our support team.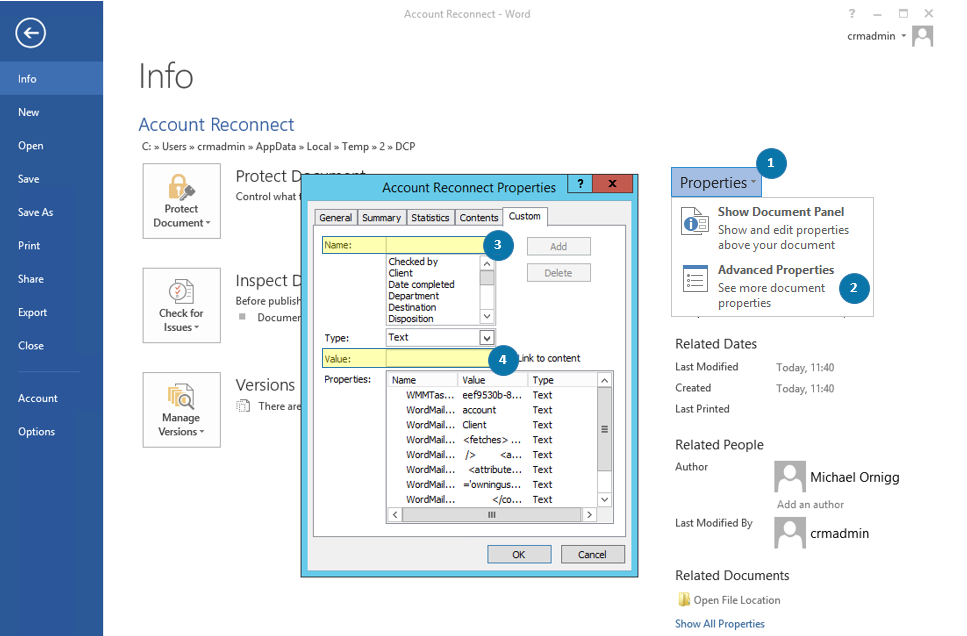 Figure 2: Insert a new MS Word property
That's it! We appreciate your feedback! Please share your thoughts by sending an e-Mail to support@mscrm-addons.com!
​