If your DocumentsCorePack/AttachmentExtractor Service stopps every 30 days the problem might be that a sign-in frequency policy of 30 days (default setting) is set for the service user.
The sign-in frequency policy defines how often a user needs to sign in manually. For the service user it is recommended to change the sign-in frequency policy to a value of 365 days.
If you do not want to change the sign-in frequency for the service user, you could use an Application User instead. Details can be found here.
The following steps guide you through the process of creating a new policy for the service user and set the sign in frequency for the service user to 365 days in your Azure Active Directory. 
Therefore navigate to "Microsoft Azure" and look for the Azure AD Conditional Access:
Select the [New policies]-button.
This site will open. Now select the service user for which you want to create a different sign-in frequency policy.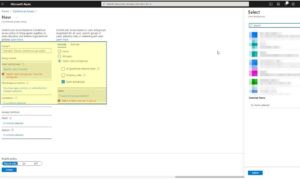 Figure 3: New policy for users
Select on the right side the "Sign-in frequency". We recommend 365 days.
In order to take over this setting, press the [Select]-button and the [Create]–button.
That's it! We appreciate your feedback! Please share your thoughts by sending an email to support@mscrm-addons.com.