This blog article outlines how to create a DocumentsCorePack template for Docusign.
Therefore open Microsoft Word, navigate to the www.mscrm-addons.com–tab and follow the instructions below:


Figure 1: Word ribbon with mscrm-addons.com-tab
Step 1: Open the Insert MailMerge Fields window and then click on the [Insert Field]-button drop down menu.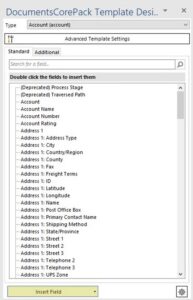 Figure 2: Open the [Insert field]-button menu
Step 2: Select Insert DocuSign Item > Signature:
Please note: Besides Signature, you could also select Initial, Date Signed, Full Name, Email, Company, Title and Checkbox. 
At the position of your cursor as field this will be inserted:


Figure 4: Insert field function in the template
Step 3: Click on the field and then select the [Field properties]-button in order to open the DocuSign Properties window. In this window, you can set the properties for your signature.
Step 4: Set your DocuSign Properties correspondingly:
❶ Field Name in the DocumentsCorePack Template
❷ You can select one of your signers, add a new one or delete lastone
❸ You can select a sign order
❹ X-Offset sets the horizontal offset of the field
❺ Y-Offset Sets the vertical offset of the field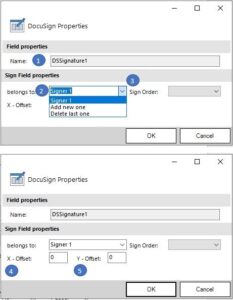 Figure 5: Set signature properties
When you are finished, click on the [OK]-button in order to proceed.
Step 5: Enjoy your first DocumentsCorePack Template for DocuSign for 1 signer!

Learn how to create a DocuSign Document with multiple signees or how to merge a document and send it to DocuSign.
Back to the DocuSign overview.
That's it! We appreciate your feedback! Please share your thoughts by sending an email to support@mscrm-addons.com.