This article outlines how to concatenate different documents in one single document in your Microsoft Dynamics 365 DocumentsCorePack Online.
Using the concatenate step, we can combine two or more documents and can thus create – independent of file format or properties of the document – a single Word document that contains all concatenated documents. If you haven't created a workflow in Microsoft Dynamics 365 Online yet, please have a look at this article first.
You can find your created workflow in your Dynamics 365 > Settings > Processes:


Figure 1: Advanced Settings – Processes
Remember how you named your Workflow, look for it in "My Processes" and click on it to open it.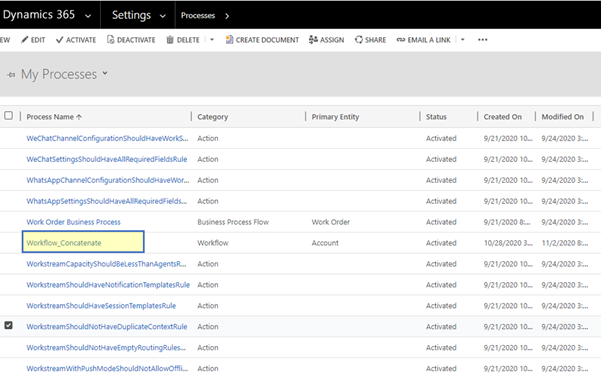 Figure 2: Where to find your Workflow
Please Note: To start concatenating your documents you have to edit the process and therefore it is necessary to deactivate it by confirming the [Deactivate]–Button.

Figure 3: Deactivate your Workflow
Now your process is in "Draft"-version and editable. Double Click it.

Figure 5: Draft version of your process
This Information window pops up. You can see the two steps:
In this step a MultiPart XML is created. You can name this process, but it is not mandatory. Click the [Set Properties]-button.
In the second step you can see that an AutoMergeWorkingItem is created using the result from step one.
"Set Custom Step Input Properties"-window opens.
You can see that the first template is already set. So, let´s set the second template which we want to concatenate to the first one.

Figure 7: Set Custom Step Input Properties
Click in the input field of the second template as highlighted in the screen. The "Lookup"-dialog opens, and you can look for the template, you want to concatenate.

Figure 8: Create a second template
Now set the Entity Record URL 2 by using the "Form Assistant" on the right.
Look for your "Entity" (in this example it is "Account")
and for "Record URL (Dynamic)", add it and the press the [OK]-button.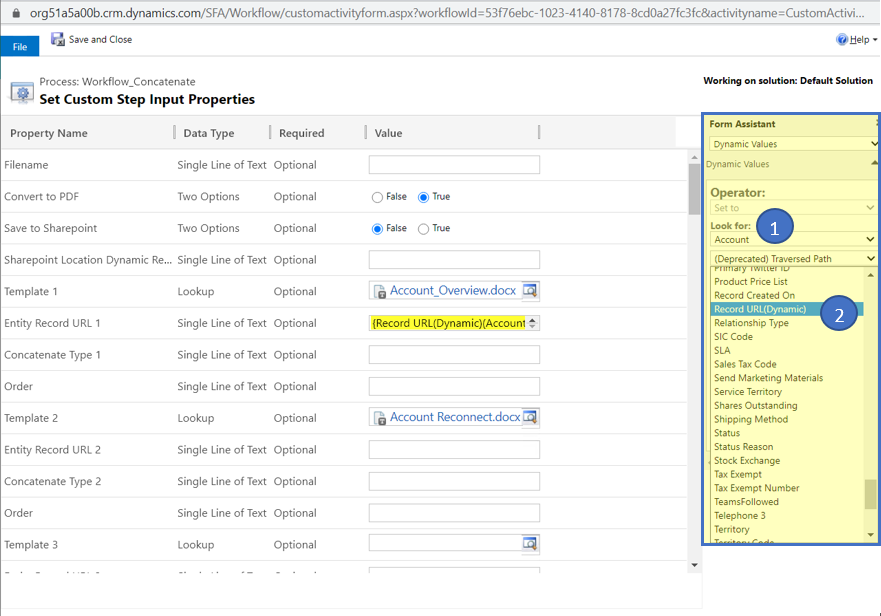 Figure 9: Set Entity Record URL 2
Now we are ready to choose the "Concatenate Type". For the first template it is not necessary to select a Concatenate Type because we want to chain the second one to the first one. We use "Doc" as ConcatenateTyp 2. You can simply type it in the input field. What to choose for the Concatenate Type can you learn here in this overview about the new concatenate syntax. Don´t forget to [Save and Close].

Figure 10: Select the Concatenate Type
Please Note: Keep in mind that you deactivated your process to edit it, so please activate it again.

Figure 11: Activate your process
That's it! We appreciate your feedback! Please share your thoughts by sending an email to support@mscrm-addons.com.