+++++++++++++++++++++++++++++++++++++++++++++++++
Please note: This article applies to Group Calendar in 
MS Dynamics CRM 2011, 2013, 2015, 2015/2016
and MS Dynamics 365
+++++++++++++++++++++++++++++++++++++++
This article only refers to GC ON PREMISE.
In case you have troubles with GC ONLINE, please contact our support via support@mscrm-addons.com
Debugging for GroupCalendar is very easy, because there is only one way to do so:
Activating debugging via the Web.config.
How to activate debugging via Web.config
Open the Web.config.
This file is located in the installation directory:

(C:\Program Files\PTM EDV-Systeme GmbH\GroupCalendar the "debug" setting and set this value to "true".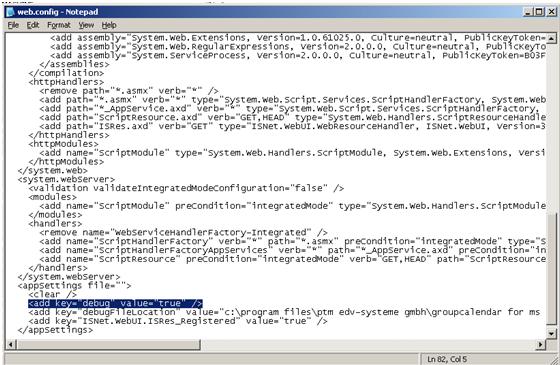 Figure 1: web.config add key
You can find the logfiles in the directory which is specified in the "debug FileLocation"- setting
Only enable debugging when you have to send us the debug files. Disable it by setting the value to "false".
That's it! Should you have further questions, please do not hesitate to contact us via support@mscrm-addons.com