Either way a valid SAS token is needed. One way to get a token is via the Azure Storage Explorer.
Open the application and navigate to the container where all the documents should be stored on. Right Click on the container name and click on "Get Shared Access Signature".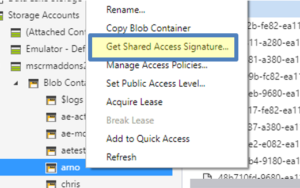 Figure 1: Get Shared Access Signature
The shared Access signature opens. Choose a start and end date. Make sure you provide all the necessary permissions and click on create.

Figure 2: "Shared Access Signature"- menu
This is the URL string you'll need later on. Copy it.
The complete URL should look like this.
That´s it! We appreciate your feedback! Please share your thoughts by sending an e-mail to support@mscrm-addons.com