This article outlines how to insert an entity image like product photos, company logos, images, etc. in your DocumentsCorePack TemplateDesigner.
In order to follow this step by step description, an entity image must be available on your table (entity) and data for testing should be stored in your field of a your Dynamics 365 record.
Open your DocumentsCorePack Template Designer. If you you are not sure how to create a template and how to get to this point please have a look at this article.
❶ Select the entity you want to generate the template for like in this example it is an "Account".
❷ Choose a field, like in this example "Default Image".
❸ Open the [Insert Field]-button and a selection opens in a drop-down menu. Choose the first option "Insert  as a Picture Field"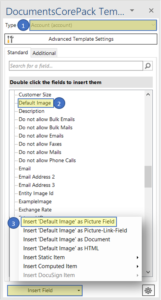 Figure 2: DCP – Insert Field as Picture Field
Please Note: CRM limits the size of uploaded images to 144×144 pixels. This means the resolution of the inserted image may not be as expected and does not have the same quality as the original uploaded document. If you upload an image larger than the standard allowed in Dynamics 365, it will be automatically scaled and Images can only be added to the left corner of a form. You can only add one image on the form at a time. Please consider it when thinking about multiple product images on one form.
❶ A placeholder picture appears. You can edit the picture now.
❷ Now save your template with a click on the [Save Template]-button and test it. If you have not tested a template yet, please read this article first.
Back to "How to use pictures and images with DocumentsCorePack".
That's it! We appreciate your feedback! Please share your thoughts by sending an email to support@mscrm-addons.com.