DocuSign provides a setting called Send On Behalf Of Right. This setting allows all users (and not only the Master-DocuSign user) to send DocuSign documents on behalf of themselves.
Please note: If more users than the Master-DocuSign user should be allowed to send documents, you have to set the Send on Behalf Of-Rights once.
Step 1: Make sure to login to Microsoft Dynamics 365 as the user who is defined as the Master-DocuSign Account user, open an account and click on the [Go To DocuSign] button.
Switch to preferences and select permissions in the member options menu.


Figure 1: DocuSign – open permissions

Step 2: Make sure that Send On Behalf Of Rights (API) is checked.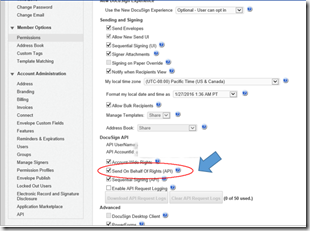 Figure 2: DocuSign – check send on behalf of rights (API)
As soon as this setting is checked, all users can send DocuSign Documents on behalf of themselves.
For more information, learn how to create a DCP-Template for DocuSign here.
That's it! We appreciate your feedback! Please share your thoughts by sending an email to support@mscrm-addons.com.