This article is about "How to set up your language" in PowerSearch.
Language Translation is possible for general elements like the "search" button and for operators like "equals". The standard languages are English and German.
In this article, you will learn how to add translations for general elements in a new language.
With only a few steps, you will manage to do it.
First:
Dynamics 365 -> Advanced Settings -> Settings -> "MSCRM-ADDONS" area -> Products
Figure 1: Dynamics 365
Next open "PowerSearch"
Figure 2: PowerSearch
Here please open the record named "PSCLanguages"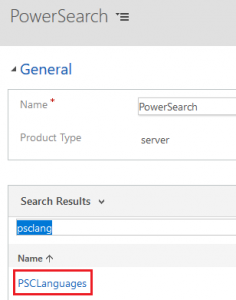 Figure 3: PSCLanguages
PSCLanguages setting record: 
Figure 4: PSCLanguages setting record
In the next step copy the content of the "KeyValue" field into an XML-editor (at least into a notepad).
It is recommended to create a copy!
Figure 5: Content of the KeyValue
The XML consists of two main areas "Static" and "Operators". In "Static" you find translations for PowerSearch buttons, error messages and so on. In "Operators" you find translations of condition Operators.
Figure 6: XML main areas
Example 1: To add a Spanish translation for the "Search" button (the language code for Spanish is 3082):
Look for the id "btsearch" and add a new "tl" sub node with the Spanish translation to it.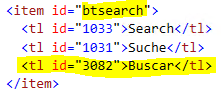 Figure 7: Adding a Spanish translation
Example 2: To add a French translation for the "Equals" operator (the language code for French is 1036):
Look for the id "eq" and add a new "tl" sub node with the French translation to it:
Figure 8: Adding a French translation
Note: As shown in the above examples you can add your translations to all elements.
Finally copy the changed XML back to the settings record in Dynamics 365 and save it. After reloading PowerSearch the new translations will be used.
Here you can find the link to all language codes all over the world.
That's it! We appreciate your feedback! Please share your thoughts by sending an email to support@mscrm-addons.com