A problem occurred with languages written from right to left, such as the Arabic language: instead of text some undefinable characters were shown. Learn how to solve this issue in a step-by-step description.
Step-by-step description
Step 1: Open a new Word document and navigate to "Options".


Figure 1: Access "Options" in a Microsoft Word template
Step 2: This window opens. Select the ❶ "Quick Access Toolbar". Make sure you set ❷ "All Commands" and look for ❸ "Rtl Run" to ❹ [Add] it. Commit with [OK].

Figure 2: Word Options > Quick Access Toolbar
Step 3: Go back to your DocumentsCorePack template, where the Arabic letters don´t work. Make sure that the cursor is in the field (see Figure 3) and click on the "'Rtl Run"- command in the "Quick Access Toolbar".

Figure 3: Make sure the cursor in the DocumentsCorePack field
Step 4: Save the template to Dynamics 365 and test it. You can see that it works!
Before: Some indefinable characters were shown!
After: The solution is working and Arabic text is shown.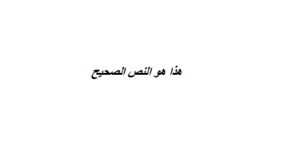 That´s it! We appreciate your feedback! Please share your thoughts by sending an email to support@mscrm-addons.com.