If you have multiple Save-Locations configured for an entity, you need a way to specify which one should be used by DocumentsCorePack to save documents. This can be done with a little customization of your Entity in Dynamics 365.
Follow the Step-by-Step description.
Step 1: Navigate in your Dynamics 365 via the "Advanced Settings" to "Customization" and then select "Customize the System".
Step 2: This window opens. Open "Entities", then the Entity you want to customize > (in this example it is "Account") > "Fields" > press "New".
Step 3: When this window opens, add a new Field to your Entity with the Data Type "Lookup" and the Target Record Type "Document Location". Don´t forget to "Save" your new field.
Step 4: In the Account – Field overview you can see you newly created field. Next step is "Publish All Customizations".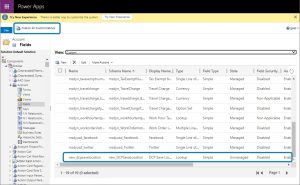 Step 5: Now open your DocumentsCorePack TemplateDesigner and open "Advanced Template Settings".
Select the section ❶ "Create Activities For" and tick on the left side ❷ "Enable Advanced Settings", navigate to the tab ❸ "Save Location" and look for your created field (in this example we named it ❹ "DCP Save Location"), make a double click and ❺ "Your Pattern for this property" is filled out automatically. Commit with ❻ "OK".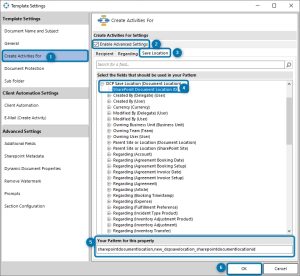 Your generated document will now be saved into the specified document location.
That's it! We appreciate your feedback! Please share your thoughts by sending an email to support@mscrm-addons.com.