The article is suitable for DocumentsCorePack and AttachmentExtractor Online Service and here is a quick guide through it:
Open https://www.mscrm-addons.com/ and login to your account.
Press [MY ACCOUNT]-button and navigate to "Manage Services". Click it again.
The "Service Configuration"-window opens.
Click on your service and now you can see the buttons at the bottom.
Press the [i]-button to open.

Figure 2: Service Configuration
Your Version Information is displayed. There is an update available so please press the
[Reinstall/Upgrade]-button in order to get the new version.
First, this information is shown. Confirm with OK.
Please Note: The Service Setup can take a while so do not close this window or navigate away. It is a good time to have some fresh coffee.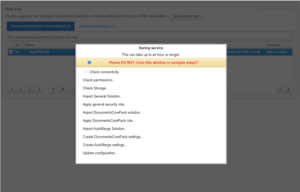 Figure 5: Saving Service Information
The Setup is finished when the ticks are green.
How to check your access mode
Please Note: It is necessary that you do these actions with your admin role. If there are problems, anyway, have a check on your access mode. Here is a brief introduction on how to check your user roles:
In your Dynamics 365 "Advanced Settings", click on the [Security]-button.


Figure 6: Advanced Settings – Security
In the overview of the "Security"-page, select "Users".
Look for your profile, like in this example it is the "MOD Administrator" and double click.
Another site opens, scroll down to the "Administration"-section and check if the Admin-Profile has the access mode
Read-Write or
Non-interactive
This access mode options are necessary for the admin role, so that no errors occur during the update.
Make sure that it is not the access mode "Administrative". This option may cause problems.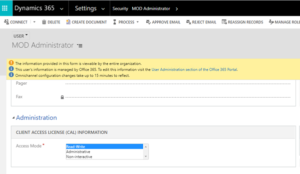 Figure 9: Administration section
That's it! We appreciate your feedback! Please share your thoughts by sending an email to support@mscrm-addons.com.