How to prepare MS Dynamics 365 for the "Insert as picture field" functionality
Before you insert a picture field, you have to make sure that the conditions for being able to do so, are fulfilled. One of them is that you have to save a picture or a path to a file share/SharePoint in your Dynamics 365-system before you proceed.
How to create a path to a file share or to a SharePoint account in your Dynamics 365-system
Simply type in the path to the File Share in any Dynamics 365 field. In our example, we have saved the path to the file share in the "Description"-field. Do not forget to save your input!

Figure 2: Create a path to a file share
It is the same procedure for a path to a SharePoint account.

Figure 3: Create a path to a SharePoint account
Please Note: Take care that the link to your SharePoint account is working. Make sure it points to the image you want to show in your document.
Because there are two ways to save the picture, there are also two different ways to proceed.
If your template gets corrupted after you have added an image to the header, have a look at this article why.
Open the DocumentsCorePack Template Designer in your Dynamics 365 and navigate to the
❶ Standard Tab and look for the location in which you have previously saved the File Share path like in this example we use:
❷ "Account". The tree-view should be visible from the moment you open the Standard-Tab.
If you do not find your field immediately, use the scroll bar to look for the corresponding fields or search for it in the search field. When you found your field, click on it, like in this example it is:
❸ "Description"
❹ If you want to insert "Description" as Picture Field, open the [Insert Field]-button drop-down selection and click on "Insert Description as Picture field"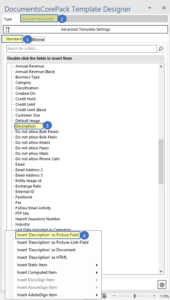 Figure 4: Insert Description as Picture Field
Once you have clicked on the corresponding option, a placeholder appears in your document.
Please note: With the DocumentsCorePack for Dynamics 365 it is also possible to define a link to make the picture clickable in the result.
Details about how to set this up can be found here.​
If you merge this template, DocumentsCorePack resolved the URL to your picture and inserted it into the document.

Figure 6: Resolved URL to picture
That's it! We appreciate your feedback! Please share your thoughts by sending an email to support@mscrm-addons.com.