DocumentsCorePack allows to automatically insert page breaks after every group inside a table.This feature ensures a seamless and visually appealing document flow, enhancing readability and professionalism.
Information: How to group tables in DocumentsCorePack templates.
Prerequisites:
Template Designer version 10.44 or higher
DocumentsCorePack Server v2020.142 or higher (click here to update your service).
After grouping your table by a specific field (in this case: job title), navigate to the www.mscrm-addons.com tab, and select ❶ Table properties. In the table-properties window, select the second checkbox that says ❷ Insert break after each grouping header and select the page break type you require in the drop-down list box.
The default option is Page Break. This means that a new page will start after each header, creating a clear separation between the content groups.
Details on different options for page breaks in Microsoft Word can be found here.
Note: The Page Break (legacy) is the old type of break that was used before the update to v.10.44. It's provided for compatibility purposes to ensure that any existing documents that used the Page Break (legacy) option won't be affected by the update.
Example:
The figure below shows a table of employees grouped by job title with every group being displayed on a new page.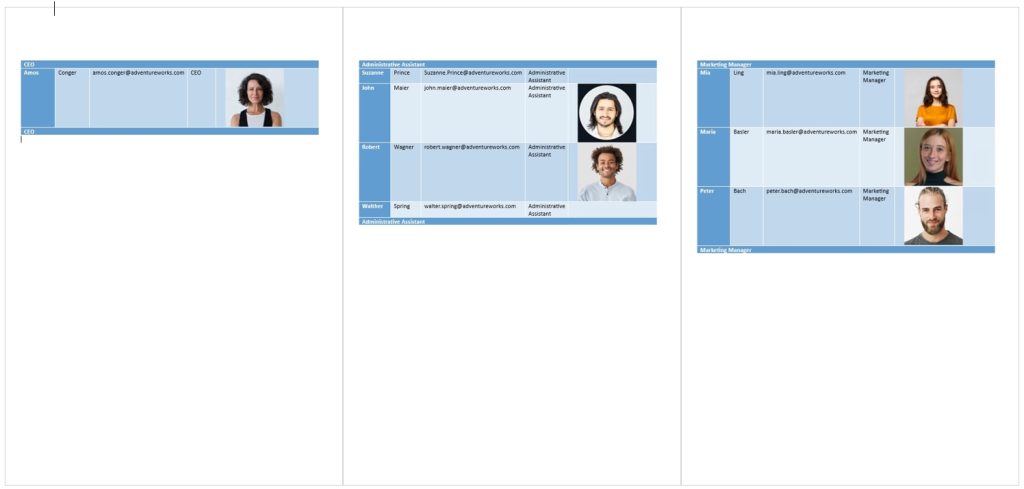 That's it! We appreciate your feedback! Please share your thoughts by sending an email to support@mscrm-addons.com.