This article outlines how to insert a picture in your DocumentsCorePack TemplateDesigner from an image field in Dynamics 365.
In order to follow this step-by-step description, an image field must first exist on your entity and an image file must be stored in a record of your Dynamics 365 for testing. Learn how to customize your Dynamics 365 by adding a new field to your entity.
Create and edit columns for Microsoft Dataverse using Power Apps – Power Apps | Microsoft Docs
Here you can see a sample of such a field in your Dynamics 365 on a form.
If you look at your DocumentsCorePack Template Designer you will find this field on the list of fields from the chosen table (entity). If you are not sure how to create a template or how to get to this point, have a look at this article.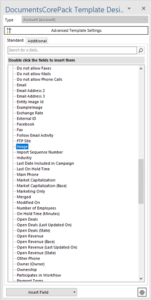 Figure 2: The new created field in your DCP
Press the Insert Field button and click on Insert Image as Picture Field. A placeholder will appear.
Now you can save your template and test it, as described here.
Back to "How to use pictures and images with DocumentsCorePack".
That's it! We appreciate your feedback! Please share your thoughts by sending an email to support@mscrm-addons.com!