The Insert Static Document feature allows you to insert a sub template into
your current template or also to insert further text documents, like AGBs.

The example 
below
shows a template with a place holder for a sub template (1)
and the final merged document with also the sub template merged(2).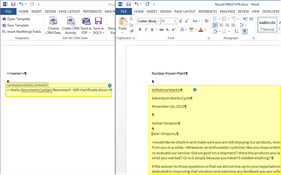 Figure 1: Example of a sub template

If you are not sure how to get to the insert fields option,
please take a look at this article first.
Select a document to insert
At this point, you have two options. You can either select a sub template and
provide the necessary field as a merge parameter or you can skip this step and
select a static document only (which does not require a parameter for merging).

a) Provide a merge parameter [optional]
Select an ID-field from the treeview (e.g. Contact) (1) and check the
Provide the selected field as a parameter – checkbox.

Figure 3: Provide a parameter

b) Hit the [Select Document]-button


Figure 4: [Select document]-button

c) Select a sub template or static document
All the available documents are stored in the DocumentsCorePack templates entity.


Figure 5: Document selection (Look-up window)

Insert place holder
You will notice the name of the select template in the new window (1).
Apply the new field by clicking the [OK]-button (2).



Figure 6: Template added

Save your template


Before you can use or test your template you have to save it.
Either you save your template locally with the standard Save or Save as
the functionality of Word or you use the Save template-option of the
DocumentsCorePack client in order to publish the template to Dynamics 365.

Test your template (optional)
As you have made changes to your template you might want to test them quickly.


A step by step description of how to test your template can be found

here

.



reworkneeded  .. multiple articles with same content //Part of DCP Client in APP Docu