The "Insert Static Document" allows you to insert a subtemplate into your current template or also to insert further text documents, like "Terms and Conditions".
The following example shows a template with a place holder for a subtemplate
❶
and the final merged document with also the subtemplate merged
❷
.
If you are not sure how to get to the insert fields option,
please take a look at this article first.
1. Use the "Insert Static Item"-option: [Insert Field] > [Insert Static Item] > [Static Document]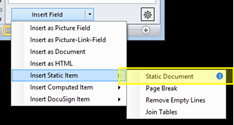 Figure 2: Insert Static Document
2. Select a document to insert: At this point, you have two options. You can either select a sub template and
provide the necessary field as a merge parameter or you can skip this step and
select a static document only (which does not require a parameter for merging).
a) Provide a merge parameter [optional]: Select an ID-field from the treeview (e.g. Contact) ❶ and check the "Provide the selected field as a parameter" – checkbox ❷.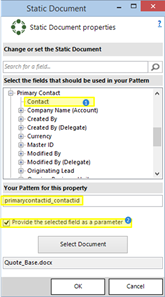 Figure 3: Provide a parameter

b) Hit the [Select Document]-button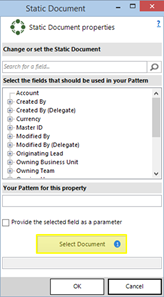 Figure 4: [Select document]-button
c) Select a subtemplate or static document
All the available documents are stored in the DocumentsCorePack templates entity.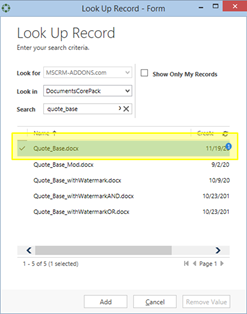 Figure 5: Document selection (Look-up window)
3. Insert place holder: You will notice the name of the selected template in the new window ❶. Apply the new field by clicking the [OK]-button ❷.
4. Save your template:
Before you can use or test your template you have to save it.
Either you save your template locally with the standard "
Save
" or "
Save as
"
the functionality of Word or you use the "
Save template
"-option of the
DocumentsCorePack TemplateDesigner in order to publish the template to Dynamics 365.
5. Test your template [optional]: As you have made changes to your template you might want to test them quickly. A step by step description of how to test your template can be found here.