The Insert Static Document functionality allows you to insert a sub-template into your current template or to insert further text documents, like Terms and Conditions.
The following example shows a template with a placeholder for a sub-template ❶ and the final merged document ❷.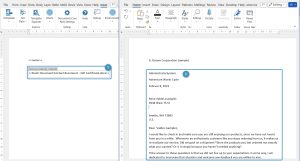 This article will help you with how to access the Insert Field option.
1. Use the "Insert Static Item" option
Insert Field  >  Insert Static Item > ❶ Static Document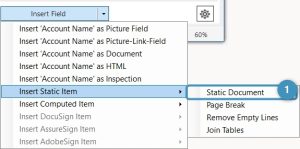 2. Select a document to insert
At this point, you have two options. You can either select a sub-template and provide the necessary field as a merge parameter or you can skip this step and select a static document (which does not require a parameter for merging).
a) Provide a merge parameter [optional]
Select an ID-field from the treeview (for example: Contact) ❶ and check the Provide the selected field as a parameter checkbox ❷.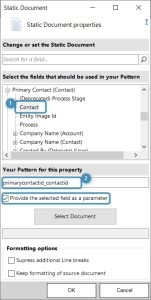 b) Hit the "Select Document" button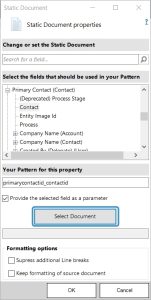 c) Select a subtemplate or static document 
All the available documents are stored in the DocumentsCorePack templates entity.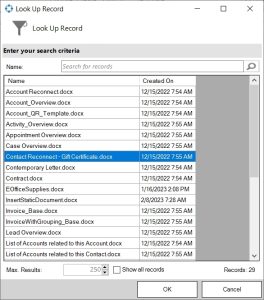 3. Insert a placeholder
You will notice the name of the selected template in the new window ❶. Apply the new field by clicking the OK button ❷.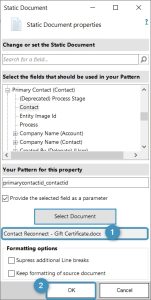 4. Save your template
Before you can use or test your template, you must save it. Either save your template locally with the standard Save or Save as functionality of Word, or use the Save template option of the DocumentsCorePack TemplateDesigner to publish the template to Dynamics 365.
5. Test your template [optional]
As you make changes to your template, you may want to test it. A step-by-step description of how to test your template can be found here.
Related Topics:
Insert Fields
That's it! We appreciate your feedback! Please share your thoughts by sending an email to support@mscrm-addons.com.