Should you face problems with the "Template LookUp" from the "Insert Static Document"-functionality, open the DocumentsCorePack, navigate to the "General Settings" and enable the "Use DCP LookUp Dialog". Don´t forget to press the [Save Configuration]-button (There is a reminder right next to it 😉)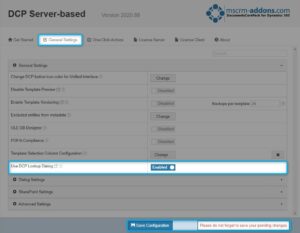 Figure 1: Enable DCP Lookup Dialog
Please note: If you do not have the above option available or if you are not able to access the web configuration you can try to manually set this SettingsKey as an alternative.  
Name: AlternativeLookupDlg
KeyValue: true 
and enter it in your Dynamics 365 for DocumentsCorePack Name- and KeyValue field. 
Here is a little reminder about how to create a SettingsKey. 
That's it! We appreciate your feedback! Please share your thoughts by sending an email to support@mscrm-addons.com.
​