DocumentsCorePack (DCP) supports the population of metadata into SharePoint. Proper configuration of Dynamics 365 and DCP for the Dynamics 365 SharePoint Integration is needed as well. For further information visit this site.
Please note: Only base types are supported; taxonomy properties are currently not supported.
Example:
1. Access the Metadata section in DCP TemplateDesigner
If you are not sure how to access the template settings to set the SharePoint metadata, please have a look at this article first.
2. Add, edit, or delete a property
❶ [Add] a property.
❷ [Edit] a property.
❸ [Delete] existing properties by selecting them.
With any of these buttons you can open the ❹ SharePoint Metadata Field Settings for further setup.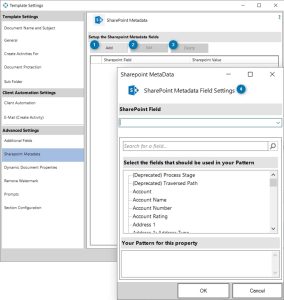 3. Create a new property
If you want to create a new property, hit the [Add] button. The SharePoint Metadata Field Settings window pops up. Manually type in a chosen name of the SharePoint property or select an existing one in the ❶ drop down. Confirm with [OK].
How to create, change or delete custom properties on SharePoint is described in this external blog by Microsoft.
The value of the property can be composed of the following:
Dynamics 365 fields
Static text

User Prompts: Another possibility

for

entering custom data into this setting is

 

using user prompts

. 

Learn more in

this article

.

 
More details about the supported syntax for this field can be found here.
4. Save your template
Before you can use or test your template, you have to save it. Either you save your template locally with the standard Save or Save as functionality of Word, or you use the Save Template option of the DCP TemplateDesigner to publish the template to Dynamics 365.
5. Test your template [optional]
As you have made changes to your template you might want to test it quickly. A step-by-step description of how to test your template can be found here.