When a user makes changes to a template and saves those changes, a new version of the template is created, and the previous version is still retained in the system. This is called Template Versioning. This allows users to go back and view previous versions of a template.
In this article learn how to enable Template Versioning and how to recover templates.
Prerequisites: The Override Created on or Created by for Records during Data Import option is required in your Dynamics 365 security settings to update the Template Version.
1. How to enable Template Versioning
In your Dynamics 365 navigate to the Advanced Settings. In the MSCRM-ADDONS column select DocumentsCorePack and open the ❶ General Settings tab. ❷ Enable the Template Versioning.
❸ With this option, you can specify the number of backups to be saved per template (0 is for unlimited backups). ❹ Make sure to save the configuration.
Please note: To activate the Template Versioning, restart Microsoft Word and the Data Provider.
2. How to recover templates
Open a Word template and click the Open Template button. An ❶ additional icon is shown in the menu bar.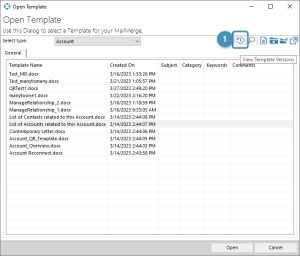 Select a template and then click on the icon. The ❶ Open Template Version window appears with ❷ all available versions of this specific template sorted from new to old. Select the version you want to recover and press the ❸ Recover button.
Tip: Use the standard properties for keywords, subjects, etc. to store additional information about the performed changes in your templates.
After recovering, the file opens with the current document name and a current timestamp added to the name.
You now have the choice of how to proceed with the recovered file. The live template has not been altered. If you wish to use the recovered template as your new live template, you must overwrite the existing one with it.
Related content:
That's it! We appreciate your feedback! Please share your thoughts by sending an email to support@mscrm-addons.com.