This article shows how to activate the DocumentsCorePack connector for PowerAutomate. Once activated, you can generate and process documents in Microsoft Flows and Canvas Apps.
Prerequisites:
Your DocumentsCorePack service must be hosted on mscrm-addons.com.(Open Service Configuration)
Your DocumentsCorePack service must use the Online – Server2Server or App Access Connection Type for authentication.
Visit the service configuration on https://www.mscrm-addons.com/Products/DocumentsCorePack/ServiceConfiguration. Select your service and click on [get API key], save this key for later:

When using the DocumentsCorePack (Premium connector) inside your Flow or PowerApp, you will be asked to enter an API key. Use the key generated in #1
Example: Adding a DocumentsCorePack Action to your Flow in PowerAutomate
Look for the DocumentsCorePack connector (Premium)
2. Select the DocumentsCorePack connector and choose an action. Example: "Create Document Job"
3. When asked, specify a name for the connection and enter the API key (see Step 1). This defines the connection to the DocumentsCorePack Sevice. Click on "Create":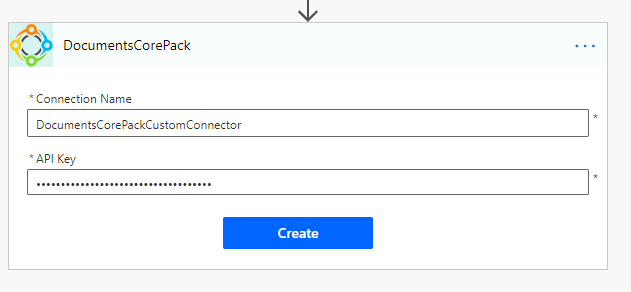 You are all set and you can use the DocumentsCorePack Custom Connector.
Helpful Links: