This article outlines how to use the Insert as Picture-Link-Field button within the Insert button in DocumentsCorePack.
In order to follow this step-by-step description, a link to an image must first be stored in the field of your Dynamics 365 record.
Requirements: DocumentsCorePack v5.97 and higher
Insert a picture link in an entity in your Dynamics 365, like in the Website field shown below.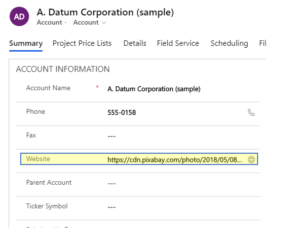 Figure 1: Inserted picture link in the website-field.
Open a template or create a new one by clicking on the ❶ www.mscrm-addons.com tab, selecting ❷ Insert MailMerge Fields and if a question appears, select "yes" to get to the DocumentsCorePack Task Pane. You can also tick the checkbox in the pop-up window to use the selection as default.

Figure 2: Open the DCP TaskPane
Select the type and the field to be inserted. In this example, we selected Account as the type and Website as the CRM field. Click once on its name so that it's highlighted in blue.

Figure 3: Selected fields to be inserted
Now click on the arrow next to the Insert Field button to open a drop-down selection. For our example, we are inserting the Website field as the Picture-Link-Field.


Figure 4: Drop-down selection for Insert Field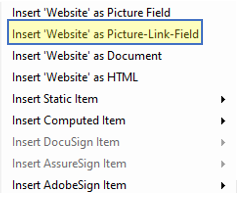 Figure 5: Insert as Picture-Link-Field
Once clicked, a placeholder picture appears in your document as shown in the next screenshot.

Figure 6: Placeholder picture to be inserted before the merge.
Please Note: With the latest version of DocumentsCorePack for Dynamics 365 it is also possible to define a link to make the picture clickable in the result. Details about how to set this up can be found here.​
Result: In the merged template, your DocumentsCorePack will resolve the URL to your picture and insert it into the document.
For detailed product information, please visit our product page.
Back to "How to use pictures and images with DocumentsCorePack".
That's it! We appreciate your feedback! Please share your thoughts by sending an email to support@mscrm-addons.com.