This article outlines the functionalities of the Insert field button. You can find the button on the bottom of your DocumentsCorePack TemplateDesigner ❶.
The button itself inserts a selected field directly into your document. The drop-down menu ❷ allows you to insert special field types into your template.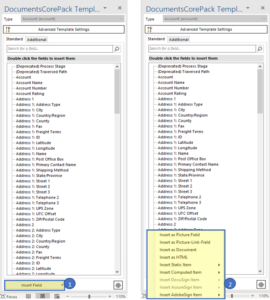 Figure 1: The Insert Field button closed (left) and open (right)
The list below directs you to articles that describe the different functionalities.
Root elements
– Insert as Picture-Field
– Insert as Picture-Link-Field
– Insert as Document
– Insert as HTML
Insert Static items
– Insert Static Document
– Insert PageBreak
– Insert Remove Empty Lines
– Insert Join Tables
Insert Computed items
– Insert QR-code
– Insert Advanced String
– Insert Calculated Fields
– Insert Hyperlink
– Condition Field
– Insert Prompt Field
– Insert DateTime Field

Insert AdobeSign Item
Follow this link to view further information about our DocuSign integration and how to use it.
Related Topics:
List of available Template Settings.
That's it! We appreciate your feedback! Please share your thoughts by sending an email to support@mscrm-addons.com