This article describes how to use the Insert PageBreak button within the Insert Field button in DocumentsCorePack (DCP) templates. This feature allows you to insert a dynamic PageBreak into your document.
The Insert PageBreak functionality also works in tables. For example, if you have a table with product information and you insert a PageBreak, you can have an extra page for each product as a result.
Click here to read more about the functionalities of the Insert Field button.
To utilize the Insert PageBreak button, follow this step-by-step description.
Step 1: Open a DCP template or create a new one. Navigate to the ❷ Insert MailMerge Fields within the ❶ www.mscrm-addons.com tab. The ❸ DCP task pane will open.
Step 2: Navigate to the ❶ DCP task pane, click in the ❷ Insert Field button, choose ❸ Insert static Item and then select ❹ PageBreak.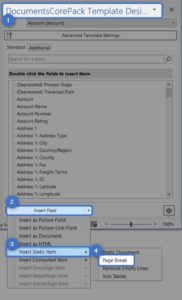 Figure 2: DCP task pane – PageBreak
Step 3: Place the PageBreak field in your DCP template. A ❶ placeholder will be displayed.
After merging the template, you can see the inserted Page Break is working.
Figure 4: Working Page Break
That's it! We appreciate your feedback! Please share your thoughts by sending an email to support@mscrm-addons.com.