Remove Empty Lines fields are a simple way to dynamically structure your document after a merge process. In this example, empty lines are shown in the document on the left (between the Contact table and the Opportunities table), but in the document on the right, these empty lines are deleted.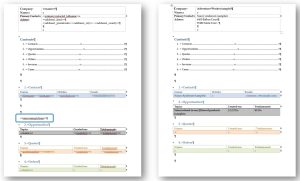 Learn how to remove empty lines below:
Step 1: Open a DocumentsCorePack (DCP) template or create a new one. Navigate to the ❷ Insert MailMerge Fields within the ❶ www.mscrm–addons.com tab and the ❸ DCP task pane opens.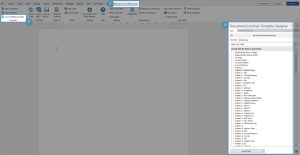 Step 2: Navigate to the ❶ DCP task pane, click the  Insert Field button, choose ❷ Insert Static Item and then select ❸ Remove Empty Lines.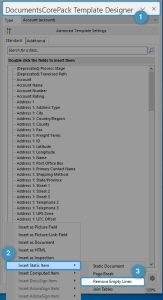 Step 3: Place the Remove Empty Lines in your DCP template, as shown below. 
Step 4: Now merge the template by pressing the Choose Data button in the Word ribbon. 
You have now successfully removed empty lines with the DCP TemplateDesigner.
That's it! We appreciate your feedback! Please share your thoughts by sending an email to support@mscrm-addons.com.