The local license manager is accessible as a standalone application or from the main configuration tool of the add-on.
There are two ways to open the License Manager:
Search for "License Manager – Dynamics 365" in the start pane and press Enter to start the program – as you can see in the figure below. Next, connect to your Dynamics 365 organization.

Figure 1: Start Pane – Search for License Manager
Or
2. Open the Organization overview, select an organization and click on License Manager (highlighted in yellow):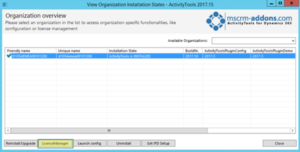 Figure 2: Organization overview
Anyway, after the starting process, the window (see screenshot below) pops up. For more information regarding the Connection Dialog, have a look at this article.
Local License Manager Overview

Figure 3: License Manager Overview
❶ INSTALLED PRODUCTS:
This list provides you with an overview of all the MSCRM-ADDONS products you have installed. Selecting a product in this overview will bring up the according to license details on the right side (section (3)). A green check, next to an add-on icon, means that its license is valid. A cross symbolizes an invalid license.
❷ CURRENT SYSTEM INFORMATION:
Summary of your current license state. A green background indicates a valid license, and a red background indicates an issue with your license.
❸ GENERAL LICENSE INFORMATION:
Displays details about expiration date, version and user count.
❹ LICENSE STATUS:
The field provides you with a deeper insight into your license status.
How to install a license
❺ SELECT LICENSE FILE:
3. On click, a file dialog will open which allows you selecting a license file.  After selecting a file, the License Manager will analyze the license and    show its information in a new dialog, like you can see below. To finish        the installation, click on the [Install this]-button.
Please Note: You do not have to extract the received license! The Local License Manager can handle .zip-files as well. If it contains licenses for multiple products it will install each license key for the corresponding product.
That's it!We appreciate your feedback! Please share your thoughts by sending an email to support@mscrm-addons.com.