This article outlines how to upload sample templates with the DocumentsCorePack Client. (Version 6.5 or higher)
Open an MS Word template and go to the "www.mscrm-addons.com"-tab ❶. Hit the "DocumentsCorePack Settings" ❷.

Figure 1: Open the DCP settings
This "DocumentsCorePack Settings"-window opens.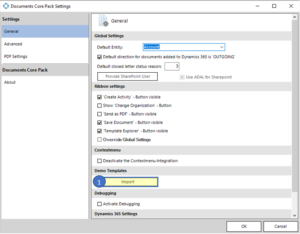 Figure 2: DocumentsCorePack Settings
Click on [Import] ❶ and DocumentsCorePack will start to upload sample templates automatically. In case the sample templates have already been uploaded, you will receive an according message.
Once finished, the sample templates are uploaded and ready for use. You can open them by a click on "Open Template".
That's it! We appreciate your feedback! Please share your thoughts by sending an email to support@mscrm-addons.com.