This blog article provides guidance on what to do if your DocumentsCorePack Service suddenly stops functioning.  
This can happen for many reasons, for example, when the login credentials are expired or no longer valid. Note: We would recommend you "Setup your password to never expire" for the account on which you run the DocumentsCorePack service. 
Troubleshoot
Step 1: Open the Service Configuration. Make sure to double-click on your service to open it. 
Please note: If your connection has been interrupted, the Create CRM connection profile window will open automatically.  
Step 2: Click ❶ Connection Profile. The Create CRM connection profile window opens. Select the connection type (e.g. ❷ Server2Server  in our example) and re-enter your credentials. Once done, hit the ❹ Retrieve Organizations button. 
Please note: The user or account you are using must have a set of required privileges.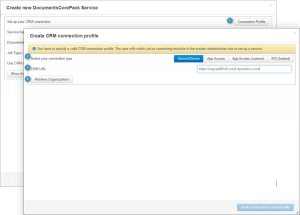 Step 3: You were prompted to log in after hitting the Retrieve Organizations button. Check, if everything is set up correctly and ❶ Verify Connection & Save Profile.  
Please note: In the event that the connection was interrupted due to expired user credentials, it's crucial to ensure that accurate and up-to-date information is provided when registering again.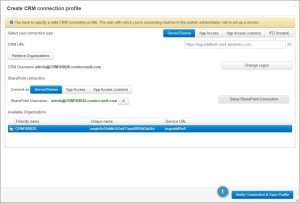 Step 4: Please do as this window tells you! 
Step 5: Your profile is verified, now ❶ Save Service. 
Step 6: It's important to keep in mind that the Service does not start automatically. Therefore, to ensure the Service is up and running, it's essential to manually initiate it. 

That's it! We appreciate your feedback! Please share your thoughts by sending an email to support@mscrm-addons.com.